www.forscope.pl
Adobe After Effects CS5 (DE) – bez abonamentu
Adobe After Effects CS5 (DE) – bez abonamentu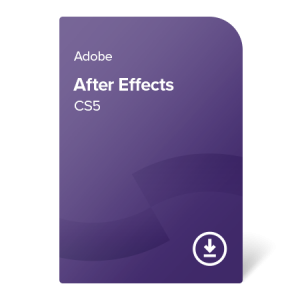 Zdjęcie ma charakter poglądowy. Produkt dostarczamy bez opakowania.
Rodzaj oprogramowania:
używane bezterminowe
z dokumentacją prawną gotową do audytu
Wariant:
elektroniczny certyfikat
Dostępny
Dostawa elektroniczna w 1-2 dni
Tymczasowo niedostępny
Dostawa na adres e-mail

Dokumentacja prawna gotowa do audytu
Produkt ten jest oprogramowaniem używanym, dla którego prawo definiuje 4 warunki wymagane do legalnego przeniesienia własności oprogramowania.
Dostarczamy deklarację pierwszego właściciela potwierdzającą spełnienie wszystkich warunków prawnych:
Pierwszym krajem użytkowania był kraj należący do UE/EOG lub Szwajcaria.
Produkt został w całości opłacony na rzecz właściciela praw autorskich.
Produkt jest wieczysty, bez ograniczeń czasowych w użytkowaniu.
Produkt nie jest już użytkowany przez pierwszego właściciela.
Częścią dokumentacji prawnej jest również oświadczenie Forscope o nieużywaniu produktów.
Chcesz wiedzieć więcej o dostarczanych dokumentach? Sprawdź nasz artykuł.
Przykładowa dokumentacja
Bez terminu wygaśnięcia
Kompatybilny zarówno z Windows OS jak i macOS
Kompatybilny ze starszymi wersjami systemu macOS (do wersji High Sierra 10.13)
Rodzaj produktu:
pełna wersja; na podstawie aktualizacji (upgradu) w oparciu o umowę z właścicielem praw autorskich
Forma dystrybucji:
zbiorcza (OLP, EA lub podobny); elektroniczny certyfikat
Używane oprogramowanie:
tak; dostarczamy wszystkie wymagane dokumenty potwierdzające zgodność z prawem UE
Ważność:
bezterminowa
Przenoszenie:
możliwość przenoszenia
Sposób instalacji:
instalacja z pliku instalacyjnego producenta (udostępniamy link do pobrania pliku)
Architektura:
32/64 bit
Kompatybilność z systemem:
Windows, macOS
Wersja językowa:
niemiecka
Kompatybilne kody produktu (P/N)
:
65073455
31.01.2014
Certyfikat dla oprogramowania
Dokumentacja potwierdzająca zgodność z prawem UE (Oświadczenie sprzedawcy)
Potwierdzenie zakupu (faktura)
Plik instalacyjny do pobrania
Procesor:
Intel Pentium 4 lub AMD Athlon 64 (dla Windows); wielordzeniowy procesor Intel (dla Mac); wymagana obsługa 64-bit
Pamięć:
2 GB RAM
Wolne miejsce na dysku:
3 GB (dla Windows); 4 GB (dla Mac)
System operacyjny:
Windows XP (SP3), 7 (SP1), 8, 8.1, 10; macOS X Snow Leopard (10.6.8) - macOS High Sierra (10.13)
Grafika:
karta graficzna kompatybilna z OpenGL 2.0
Adobe After Effects CS5 (DE) – bez abonamentu
Wersja CS5 to branżowy standard biura postprodukcji filmów video. To skuteczne oprogramowanie, które pozwoli Ci tworzyć realistyczne animacje, dogłębne korekty kolorów i wiele więcej. 64-bitowe oprogramowanie zwiększa wydajność i usprawnia przepływ pracy, sprawiając, że proces postprodukcji jest bardziej wydajny i przyjemny niż wcześniej.
Idealny dla: Projektantów grafiki, artystów efektów specjalnych, montażystów wideo, specjalistów w postprodukcji, projektantów interakcji
Uwaga: Ten produkt jest w języku niemieckim.
WAŻNE: Oprogramowanie Adobe CS5 nie jest obsługiwane w najnowszych wersjach systemu macOS (Mojave 10.14 i nowsze).