W Forscope nieustannie staramy się ulepszać nasze systemy i usługi, aby doświadczenie naszych klientów było jak najbardziej płynne i przyjemne.
Aby ułatwić naszym klientom jak najszybsze rozpoczęcie korzystania z zakupionych u nas produktów, stworzyliśmy platformę OneSAM.
Czym jest platforma OneSAM i do czego można ją wykorzystać?
OneSAM, czyli One Software Asset Management, to platforma internetowa, na której klienci mogą znaleźć pliki instalacyjne dla używanego oprogramowania zakupionego w naszej firmie. Jako dane uwierzytelniające do logowania wykorzystywany jest numer zamówienia i e-mail związany z zamówieniem – w ten sposób nasi klienci otrzymują dostęp do plików, których potrzebują do instalacji konkretnych produktów, które zakupili.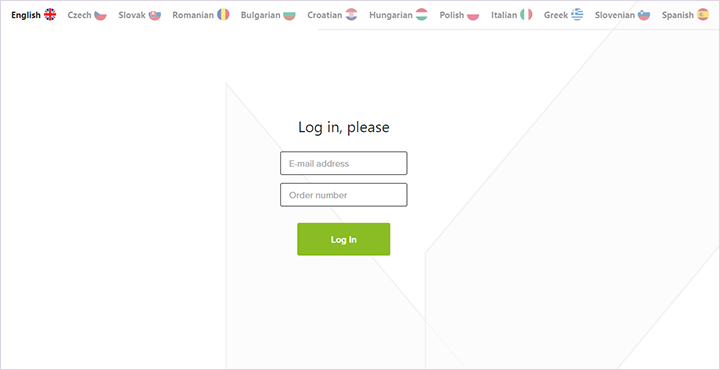 Platforma umożliwia użytkownikom pobranie plików instalacyjnych bezpośrednio na aktualnie wykorzystywane urządzenie lub wygenerowanie tymczasowego linku (ważnego przez 48 godzin) do pobrania na innym urządzeniu. Upewniliśmy się również, że OneSAM jest zrozumiały we wszystkich krajach, w których działamy – obecnie na górze strony istnieje możliwość wyboru spośród 12 dostępnych języków.
Korzystanie ze starszej wersji oprogramowania (tzw. downgrade) jest teraz jeszcze łatwiejsze!
Niedawno dodaliśmy możliwość pobrania plików instalacyjnych dla starszych wersji zakupionego oprogramowania – dzięki prawu do korzystania ze starszej wersji oprogramowania (tzw. downgrade)! W przypadku wszystkich produktów oferowanych jako używane oprogramowanie, w stosunku do których obowiązuje to prawo, klienci zobaczą tę opcję pod główną wersją: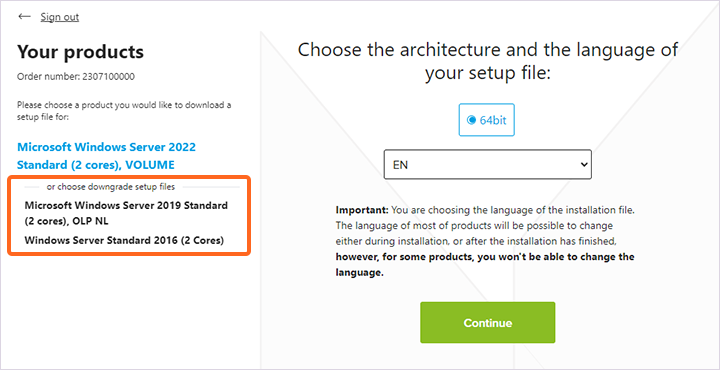 Downgrade to prawo użytkownika końcowego, które pozwala mu na przywrócenie (obniżenie) oprogramowania do starszej wersji. Na przykład, jeśli klient kupił system Windows Server 2022 Standard, to może obniżyć go do wersji Windows Server 2019 Standard lub Windows Server 2016 Standard (ale nie może używać ich wszystkich jednocześnie). Prawo do przywrócenia poprzedniej wersji oprogramowania dotyczy wszystkich produktów Volume Licensing (produkty serwerowe, MS Office itp.) i stanowi doskonałą okazję do wdrożenia wersji oprogramowania, która najlepiej odpowiada aktualnym potrzebom projektu.
Dedykowany portal dla złożonych projektów
W szczególnych okolicznościach możemy stworzyć dopasowany dla potrzeb projektu portal OneSAM z bardziej zaawansowanymi treściami, takimi jak dokumentacja prawna czy certyfikaty z kluczami produktu dla używanego oprogramowania zakupionego w naszej firmie. Tego typu portal jest szczególnie przydatny w projektach wymagających platform zarządzania zasobami oprogramowania, takich jak VLSC (Volume Licensing Service Center) firmy Microsoft, ponieważ może stanowić alternatywę dla rozwiązań dostarczanych bezpośrednio przez producentów oprogramowania.
Czy masz projekt, który wymaga bardziej kompleksowego podejścia do zarządzania zasobami? Skontaktuj się z naszym zespołem sprzedaży i sprawdź, czy Twój projekt się kwalifikuje!
Potrzebujesz pomocy z OneSAM?
Skontaktuj się z naszym zespołem pomocy technicznej i otrzymaj instrukcje krok po kroku lub wszelkie inne wyjaśnienia, których możesz potrzebować, za pośrednictwem czatu lub poczty elektronicznej.
---
 Zapisz ten artykuł jako plik PDF