Ten przewodnik jest przeznaczony dla produktów Office opartych na licencji zbiorowej, takich jak Office 2013 Standard i Office 2013 Professional Plus.
Przed zainstalowaniem oprogramowania upewnij się, że:
Twój komputer spełnia wymagania systemowe dla Office 2013;
Twój system operacyjny ma pobrane i zainstalowane najnowsze aktualizacje dla systemu Windows;
na komputerze nie są zainstalowane następujące programy Office (jeśli są, odinstaluj je):
Office Home and Student, Office Home and Business, Office Professional, aplikacje desktopowe Microsoft 365, My Office.
Przewodnik krok po kroku
Przejdź na stronę onesam.eu i zaloguj się za pomocą swojego adresu e-mail oraz numeru zamówienia.
Kliknij swój produkt Office w menu po lewej stronie i wybierz wersję bitową (architekturę):

32-bitowa – zalecana dla starszych urządzeń i systemów.
64-bitowa – zalecana dla optymalnego działania na nowszych systemach.

Wybierz wersję językową swojego pakietu Office z menu rozwijanego poniżej opcji wyboru wersji bitowej.
Pobierz plik ISO, a następnie otwórz go i uruchom plik setup.exe.
Może pojawić się małe okienko z pytaniem, czy chcesz zezwolić aplikacji na wprowadzanie zmian na Twoim urządzeniu – kliknij "Tak" ("Yes").
Następnie zaakceptuj warunki korzystania z usługi, aby kontynuować, a następnie kliknij "Zainstaluj teraz" ("Install Now").
Poczekaj na zakończenie instalacji.
Po wyświetleniu tego okna pakiet Office będzie w pełni zainstalowany: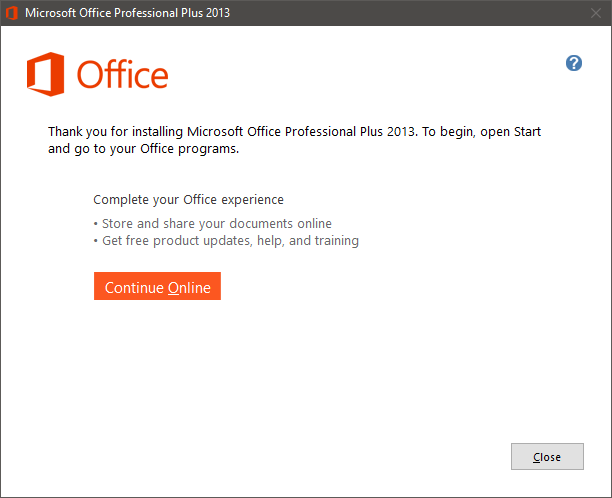 Kliknij "Zamknij" ("Close") i przejdź do aktywacji produktu (przejdź do zakładki Aktywacja).
Przewodnik krok po kroku
Po zakończeniu instalacji pakietu Office 2013 należy aktywować produkt, aby zakończyć proces.
Uruchom dowolną aplikację pakietu Office 2013, na przykład Word.
Otwórz pusty dokument.
Przejdź do menu Plik (File) → Konto (Account) i kliknij Zmień klucz produktu (Change Product Key) w żółtym polu.


Wpisz swój klucz produktu w wyskakującym okienku, a po chwili przycisk Instalacja (Install) stanie się aktywny – kliknij go, a Twój produkt zostanie aktywowany i będzie gotowy do użycia.