Ten przewodnik jest przeznaczony dla produktów Office opartych na licencjonowaniu zbiorowym, takich jak Office 2019 Standard i Office 2019 Professional Plus.
Przed zainstalowaniem oprogramowania upewnij się, że:
Twój komputer spełnia wymagania systemowe dla Office 2019;
Twój system operacyjny ma pobrane i zainstalowane najnowsze aktualizacje dla systemu Windows;
na komputerze nie są zainstalowane następujące programy Office (jeśli są, odinstaluj je):
Office Home and Student, Office Home and Business, Office Professional, aplikacje desktopowe Microsoft 365, My Office.
Przewodnik krok po kroku
Przejdź na stronę onesam.eu i zaloguj się za pomocą swojego adresu e-mail oraz numeru zamówienia.
Pobierz i uruchom naszą aplikację Offce 2019 Volume Installer.exe.
Możesz zobaczyć następujące ostrzeżenie:


Ten komunikat pojawia się, ponieważ aplikacja jest zupełnie nowa i nie uzyskała jeszcze statusu zaufanego w systemach bezpieczeństwa Windows. Kliknij Więcej informacji (More info) i wybierz Uruchom mimo to (Run anyway).
Po otwarciu, program Forscope Installer wygląda następująco:


Z listy rozwijanej Product wybierz produkt, który został u nas zakupiony.
W polu Components możesz odznaczyć aplikacje pakietu Office, których nie planujesz używać.
Z listy rozwijanej Platform wybierz typ architektury swojego produktu: 32 lub 64-bitową.
Zazwyczaj najlepiej jest wybrać wersję 64-bitową – w ten sposób Twój produkt będzie działał lepiej na nowoczesnych systemach operacyjnych i urządzeniach.
Z listy rozwijanej Language wybierz wersję językową produktu.

Po dopasowaniu ustawień dotyczących instalacji kliknij Download & Install.
Teraz wystarczy poczekać na zainstalowanie produktu. Zielony pasek postępu w Instalatorze zapełni się kilka razy, pojawią się również dodatkowe okna – jest to normalny tryb działania i stanowi część procesu instalacji programu.
Nie zamykaj Instalatora ani jego dodatkowych okien, w przeciwnym razie instalacja zostanie przerwana!
Po wyświetleniu tego okna pakiet Office będzie w pełni zainstalowany: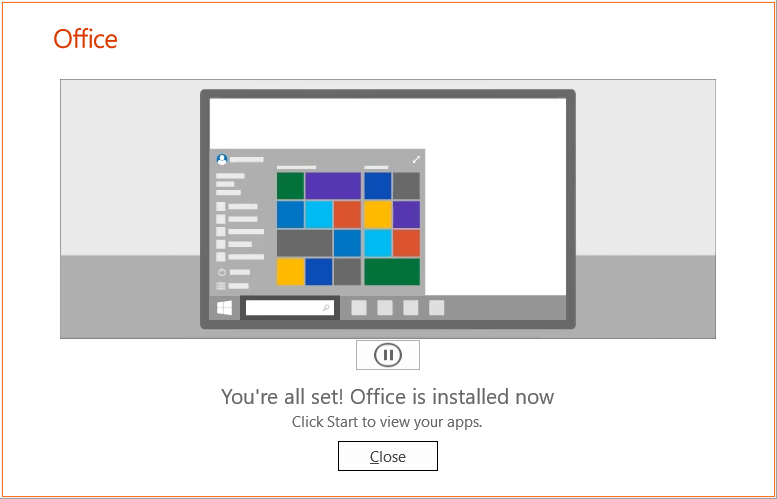 Możesz teraz zamknąć Instalator i przejść do aktywacji produktu (przejdź do zakładki Aktywacja, aby uzyskać instrukcje).
Przewodnik krok po kroku
Po zakończeniu instalacji pakietu Office 2019 należy aktywować produkt, aby zakończyć cały proces.
Uruchom dowolną aplikację pakietu Office 2019, na przykład Word.
Otwórz pusty dokument.
Przejdź do menu Plik (File) → Konto (Account) i kliknij Zmień klucz produktu (Change Product Key) w żółtym polu.


W wyświetlonym oknie wprowadź swój klucz produktu, chwilę później pojawi się przycisk Aktywuj pakiet Office (Activate Office) – kliknij go, a Twój produkt zostanie aktywowany i będzie gotowy do użycia.